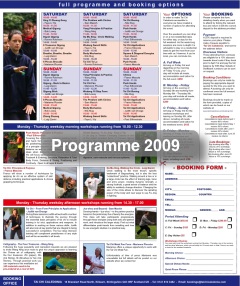 Tai Chi Caledonia 2009
The catalogue for Tai Chi Caledonia 2009 is up on the web page. There is a full program of stuff, from sword to calligraphy, from breathing to fan, there is enough to interest the internally minded martial artist. and as i think this is the only thing like this in Scotland its nice to see it coming round again.
Personally I'd like to see a fight between Sam Masich, who's "the problem with circles" class seems to want to challenge Luigi Zanini's "Da Mu Xing;Walking the circle" class. I know who my money would be on.
One comment on "Tai Chi Caledonia 2009"
I'm still curious to know who would be the winner 😉